Simo Kangas, Director Cantus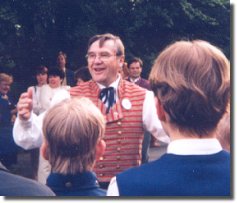 Simo Kangas was born in Veteli in 1937. He graduated as a school teacher in 1963 and after that he has teached in Kinnula, Kaustinen and last in Veteli until year 1997 when he retired.
As a choir director Simo Kangas started in 1961. First he conducted the class choir of Raahe teacher seminar and later several different choirs in Middle Ostrobothnia. Additionally he has been the soloist for The Finnish Church Choir and The Helsinki Cathedral Choir. Simo Kangas has also been a member of a folk music group "Tikkakosken pelimannit" as a bass player for many years.


Simo Kangas founded Veteli Boys' Choir in 1985. For many years he had admired the unique sound of boys' choirs and his dream was to form one in Veteli. He was the music instructor in province of Vaasa during 1984 to 1992 and he discovered the boys to be as skillful singers as the girls. Still there were no boys in children's choirs or youth choirs. The first practice of Veteli Boys' Choir was held in the fall of 1985 and Simo Kangas had gathered about 40 boys to the choir. It was quite an accomplishment if one takes into account that there are only about 4000 people in Veteli. For many years Veteli Boys' Choir was the only boys' choir in Finland that functioned in the countryside. Over the years Simo Kangas has developed a well-known boys' choir not only in Finland but also around the world.

As a choir director one could describe Simo Kangas as an interpreter of music. His way of conducting a choir is not just a mecanical performance according to the nuances in the notation. Instead he tries to bring out his interpretation of the message in the lyrics. When the Men's Choir of Veteli Boys' Choir competed in Rome in 1998 the choir was praised for its interpretation of the lyrics which according to the jury brought out the message of the songs the best possible way.

In 1991 The President of Finland awarded Simo Kangas the title Director Cantus.
Choir director


The Class Choir of Raahe Teacher Seminar 1961-1963
Male Quartet of Kinnula 1963-1977 (also a singer)
Men's Choir of Kivijärvi 1963-1977
Mixed Choir of Kinnula 1964-1971
Veteli Men' s Choir 1977-1998
The Finnish Church Choir 1981-1997 (assistant director and singer)
The Province Choir of Middle Ostrobothnia 1983-
Veteli Boys' Choir 1985-
Men's Choir of Nivala 1986-1998
Article - How Veteli Boys' Choir Was Established by Simo Kangas