- The following text is a translation from the article "Näin syntyi Vetelin poikakuoro", written by the conductor of the choir Simo Kangas and printed in "Perhonjokilaakso" the Veteli local newspaper, 01.01.1998. -
How Veteli Boys' Choir Was Established

When I was a little boy, the cantor of Veteli's congregation often gathered a group of children to sing with actual church choir. I had the chance to sing in that choir and to go on concert tours with them, which were all wonderful experiences. And as grew older, I wanted to give the same chance to those younger children.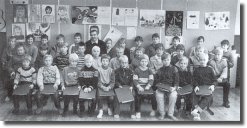 I remember, how I had many times admired the performances of famous boys' choirs like Cantores Minores and Wiener Sängerknaben. I loved the beautiful and fresh sound of a boys' choir and for a long time I had a dream of establishing one in Veteli. In the spring of 1985 that dream came through. While working as county school instructor, I had visited many schools and there I noticed that boys could just as well as girls, however the local child and juvenile choirs had only girls singing in them. This was a very obvious problem whenever I tried to get new singers to the male choir. A majority of men were a bit shy to join, because they had never sung in choir when they had been young. By establishing a boys' choir, I wanted to solve this problem and to give the boys a chance to enjoy choral music.
The task was quite demanding and it still is. I had no previous knowledge of the voice control specifically for boys. So, I tried to acquire as much information as possible from my fellow conductors and after that it was trial and error. In the beginning, it wasn't easy for the boys either. They had to i.e. withstand stupid comments from their schoolmates, who thought that you have to be some kind of a nerd to sing in a choir. The social pressure was for real. But as a few years went by and the choir had gained a good reputation, the tone of the comments changed even to a bit envious. During those few years, the boys had sung excellently in many concerts and traveled abroad. They had seen and experienced a lot more than their peers in average. And after a few more years it was evident that we had passed the critical point. The boys wanted to sing in this choir, eventhough some of them were old enough to join a male choir.
Over 10 years have passed since the establishment of the choir. I must say that I'm very grateful for the possibility of working with the boys for so long time. I have seen those many moments of joy that the boys have had and I have had the chance to listen to beautiful choral music. It has also been nice to see, how those little boys have grown to well behaving young men and how they have passed on those good manners to the younger boys. I have always considered it to be one of the most important parts of the activity of our choir. There have been though times as well, when I have wished that I was the conductor of a girls' choir. I have had this feeling couple of times, when I have decided to teach the boys some bigger music peace, which has been booked by somebody for next fall. It's not unusual that during the summer many boys go through voice mutation. Since we don't usually have much activity during the summer, it's always a bit of a surprise for me, how many boys we have singing in soprano and alto. This is the "privileged" nightmare of all conductors of boys' choirs. That's when it has some times felt really hopeless. And there has been no other possibility than to cancel or postpone that particular concert. The best solution for me has been many times just a phone call away. Most fellow conductors have had those same problems. So, after a short discussion, it feels that you can overcome even those kind of difficulties and that working with a boys' choir is the most fabulous kind of job there is.

- Simo Kangas, Director Cantus -